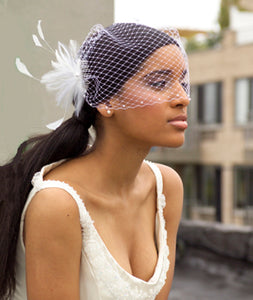 #CO65
White feathers and Coque  feathers with pearl and Swarovski crystal center.
$60.00
Swarovski Crystal Bandeau birdcage veils with comb only 88.00
Made to Order and Available in Custom Colors.
The Bandeau style is a very elegant French tulle veil. Made from 9" wide & 18" long French netting. This veil combs with 2 combs or pressure clips 1 accent comb on side, another smaller accent on other side and optional one on top to hold veiling snug. This elegant veil is inter changeable and can also be placed on an angle for a high fashion look. This veil sits below the eyes and can be placed to cover the lips.
Plain Bandeau birdcage veils with comb $65.00
Pearl Bandeau birdcage veils with comb  $85.00
Swarovski Crystal Bandeau birdcage veils with comb $ 88.00
Add Pearls or Rhinestones to combs $40.00 Swarovski Crystals $50.00 per set